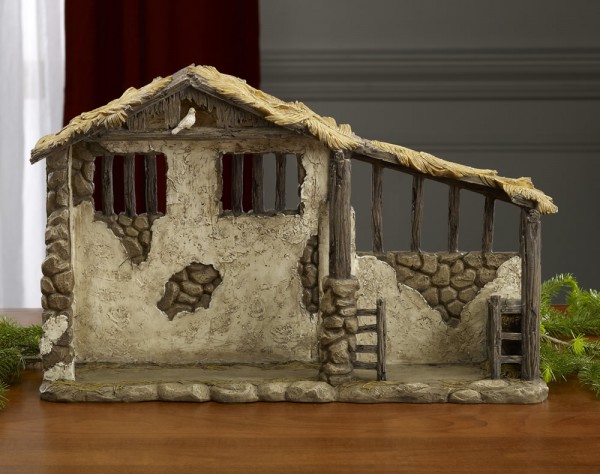 The stable is designed to capture the reality of the humble stable where Jesus was born. The stable depicts stone and stucco walls, weathered log beams and posts and a humble, palm thatched roof. The hay strewn floor and trough imagines the very stable behind the inn on that first Christmas. Included in the stable is a light that shines down on the manger below.
Lighted Stable in now available for all three sizes – Deluxe (14 inch),  Standard (10 inch) and 7 inch sizes of the Real Life Nativity.
Polymer resin. Batteries included.
Lighted Stable –  Deluxe Nativity SOLD OUT
To accompany the Deluxe (14 inch figures) Nativity:  26 1/4 inches wide x 17 inches high x 6 1/2 inches deep.  (Model GFM022)
Lighted Stable – for Standard Nativity
To accompany the Standard (10 inch figures)Nativity : 20 inches wide x 12 ¾ high x 5 ½ inches deep.
(Model GFM027)
Lighted Stable – 7 Inch Nativity Set
To accompany 7 Inch figures: 15 inches wide x 9 5/8 high x 4 ¼ deep. (Model GFM-032)